So how much DOES stained glass cost? With actual numbers!..

When I first started creating stained glass for a living, I spent hours online trying to find some kind of formula. Little did I know that NO ONE really has an actual formula for it. Years later, I still occasionally quoted myself out of most of the profit because I missed some slight nuance of a project. That being said, I can hopefully help some aspiring stained glass artists and, more importantly, folks who keep wondering whether they can afford stained glass.
If you are a potential customer, let me give you an advice that will make your life easier. Think about what DESIGN you want first - do you like abstract, geometrical, Victorian, traditional, or pictorial stained glass? If you are not sure, it may sometimes be more productive to tell the artist you are working with what your budget is. I cannot speak for all studios, but with mine chances are that you CAN afford it because there are many different options I can offer you, if I know your budget ahead of time.
If you are working with a passionate stained glass artist, you will be offered a solution that not only fits your style and budget, but is also the most visually appealing. The design stage is possibly the most laborious part of it for me, as I have to understand what you like AND produce something both you and I can be proud of! Alternatively, you might run into a shop that has 25 cookie-cutter solutions for their customers, but spends close to zero time fine-tuning the designs for them. These "cookie-cutter" studios may have very clear pricing policies because they are essentially selling the same product over and over. And sure, they make solid, nice-looking windows, but they will all look exactly like every other window that has ever come out of that shop and like every window within 50 mile radius of the studio. There is nothing wrong with that. It is a business after all.
I guess my point is - if someone can give you a solid quote before they have a deep understanding of your design preferences, that may be one of those places. If you want something more special and unique, you may want to consider a different place. So the choice is all yours! Stained glass is notoriously difficult to price, but hopefully I can give you, my customer, at least a vague idea of what it might cost.
I cannot tell you how many times I have heard the following question: "How much does it cost to have a stained glass piece made?" This is kind of like asking a construction company: "So how much does it cost to have a house built?" Eh... Are we talking 1200 sq feet ranch with just the basic fixtures or 10000 sq feet mansion with a pool, Roman bath, marble and hardwood throughout and a 10-car garage? You get the idea...
So as you might understand from the example, if you can give me the rough size dimensions of your project, I can give you a price range. However, it is going to be so wide that is unlikely to be helpful. Most of the time, that is how quoting process begins. So here is the first number I am going to throw out there: any given stained glass project, regardless of size, can cost anywhere from $150 to $500/per square foot. That is a pretty huge range. Instead, lets discuss the main variables that affect the price.
The primary thing to consider here is that stained glass work is priced based on the complexity AND materials used. In my studio (and it may not be true for all shops), the cost break down is normally about 60-70% labor, 40-30% materials. Let's start with mentioning all possible variations of stained glass. Then, we will break them down in terms of costliness of materials and labor. We will start with the most straight-forward thing that most people know as stained glass. It is usually a piece of work that is comprised of many different colored glass pieces to form a design. Here are two examples of what most people think of when they say "stained glass". Now, the type of pattern does not matter, it can be pictorial, as shown, or it can be a simple geometric pattern. What matters is that it is made out of individual pieces of glass, soldered together, and no other techniques are used.
So how do we price that? Well, it depends primarily on how many individual pieces of glass are in the design you are wanting. For example, a simple geometric design window, 30"x50'' may end up costing absolutely as much as a much smaller Tiger window as depicted above, due to the fact that it is a lot more complex, requires a lot more precise glass cutting and fitting and has over 300 individual pieces in it. Most geometric designs have no more than about 150 at most. So a simple geometric design might cost $80/sq foot, while a more complicated design, such as the Tiger window, might cost $125-150/sq foot.
Sometimes when a client requires an extremely complicated window with hundreds or even thousands of pieces in it, it becomes easier to quote on per piece basis. If a window has an over-the-top pattern, the size becomes almost irrelevant to pricing, so I might quote something like that on per piece basis. Usually about $5/piece.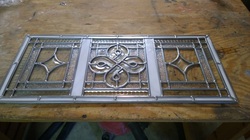 Now another type of glass that a lot of people are into is
beveled glass
. Beveled glass is usually clear. Although, there are a few studios that produce colored bevels as well. It has a beveled edge, thus breaking light as it comes through them. That causes them to sparkle and create a very pretty prism effect. You can surround your bevels with clear textured glass or colored glass. That is just a matter of preference.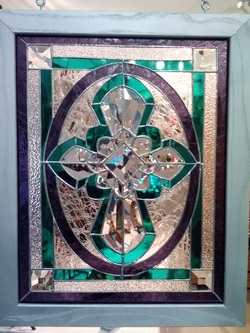 Bevels and bevel clusters come in many different shapes and sizes. There are studios that specialize in making bevels. However, most of us just purchase them from suppliers and then incorporate them in our glass creations. So th
e price of the window will be dictated by the cost of the bevel you select
, which vary greatly. The way I do it in my studio when someone wants a beveled window - I let them browse through a catalog of all available bevels and select the style they like most and then I create a complimenting design around it.
Custom bevels can also be made, but that will drive the price up considerably. I have yet to have one custom bevel ordered, because with the variety of the existing bevels is so wide, even the pickiest clients do not have a problem finding one they like. These projects I usually price at about $225/sq ft plus the cost of the bevel and other glass that goes in it. To get an idea of what bevels might cost, you may visit
HarmonyGlass.com
. They have a great selection.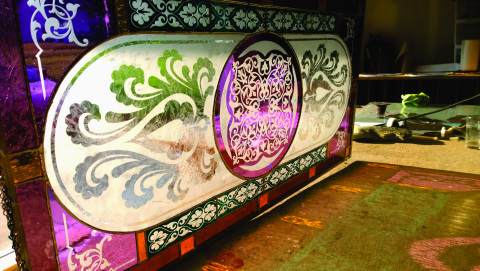 The next type of glass creation is quite possibly my favorite. It is
colored sand-carved glas
s
. I have not seen many studios offering this technique to consumers (usually you would see it on huge church projects, where money is not an issue). Possibly because the material cost is quite prohibitive. These designs are made out of very special mouth-blown flashed glass. It has a colored layer on top, but is completely different color inside. This allows the artist to carve delightful designs on it! The flashed glass my studio uses is mouth-blown (not machine-made) and is imported from Germany. As you may imagine, it costs a pretty penny. Now on these projects very often my labor vs material costs are skewed towards materials and I tend to make a very small profit. This is because if I charge my usual rate for labor most people would not be able to afford it. But, because I am such a sucker for all the pretty shiny glass, I sometimes work for close to nothing just so that I can put a gorgeous piece in someone's house. So it is possible that my quoting for these types of projects is quite useless for other studios. But here is how I do it:

The price will usually go higher with each color you would like added in your design. The reason for it is that I can only purchase this glass in large sheets. It does not matter whether your project uses 3 sq feet of each color or 3 sq inches, I would still end up paying about over $200 for each color desired, because these projects are rare and very far between normally. However, I DO NOT charge for a full sheet of color if I happen to have some glass leftover from a previous carved glass project. I try to make these as affordable as humanely possible. These normally run around $275-350/sq foot.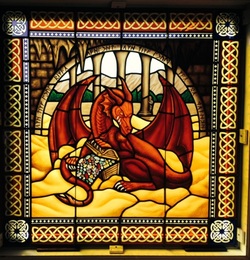 Another really cool technique one might want applied in their window is
painted glass
, which incidentally is the ONLY glass that can be rightfully called "stained" (i.e the artist is purposefully "staining" it). All other types of glass are actually properly called "art" glass. But that is a topic for another conversation.
When I say painted glass, I mean the same type of technique that you might see in older churches. The kind where the saints' faces and garments are painted on colored glass to add depth and realism to the image. The example on the left is comprised of many colored glass pieces, but then the details, such as the shadows of the dragon's body, the head, the eyes, the landscape
in the back are all added in order to give more realism and depth to the picture.
The paint we use for this technique is essentially finely ground up glass, which is mixed with a medium, such as water, oil or alcohol. We then use it to paint the detail. However, the paint does not adhere to the glass, until it is fired in a special kiln to temperatures between
1100-1250 degrees, depending on the paint used. In the kiln, the paint vitrifies on top of the carrier piece, becoming its integral part. If done properly, it will never come off - that is why you can still see some painted windows in Europe, dated back to 12th century and they still have the images. The technique used by stained glass artists today has not changed much since then. Well, except our kilns are gas or electric now :).
As you may understand from the description, this is a labor intensive and very tricky process. It is the MOST expensive project you can possibly get yourself in stained glass. Painted areas of a window will run anywhere between $300 and $550/sq foot. Faces and other images that require detailed work and where likeness is important (like when doing family portraits) will be towards the higher end of this spectrum, while fairly simple borders and monochromatic designs will be considerably less. Do not panic. This does not mean the whole window is going to be priced as a painted piece when there is only 50% of it painted and the rest of it is art glass. All of it will be taken into consideration.
In fact, most windows end up being a combination of various techniques, and thus are quoted based on several different models. Like the Dragon window above - the image area is painted, however, the Celtic border is sand-carved on colored flashed glass.
There are other things that are considered when pricing a project, such as whether the window needs to be weather-proofed or if it is going to be protected by an outside glass. It is your best bet to just contact your studio of choice for a quote! I hope it will be ours!